The LIFTKET product portfolio offers you standardized hoists that can be adjusted to your requirements in a modular way, as well as highly specialized solutions. Larger lifting and operating heights are just as viable as deviating voltages and special solutions of any kind.
Features:
Power supply 400 V, 3 phase, 50 Hz
From 125 kg to 6.300 kg we lift everything that moves you
FEM ratings from Fem 1Bm to 4m (ISO M3 to M7)
Protection class IP55, insulation class F
Galvanized load chain to DIN 818-7 quality class DAT
A wide range of options can be selected as standard
Optional one or two lifting speeds from 2 to 32 m/min.
With heavy-duty end position switch-off as standard (at 24VAC)
Up to 200 meters high safely and anywhere
Patented safety-brake-clutch system
Modular hoist design
Simply and cost effective maintenance and repair
A unique ID makes it possible to trace exactly when a particular electric chain hoist was built by whom and with which materials – even after 10 years
Trolleys/Boogies: Manual or electric trolleys in various designs for each steel section girder.
Note: Standard version delivered with lifting eye (connection between crane and trolley). Alternatively, comes with suspension hook. Standard stock hoist with 6 m lifting height.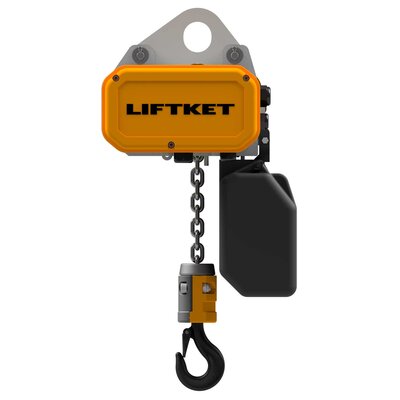 Electric Chain Hoist 125 – 6.300 kg LIFTKET STAR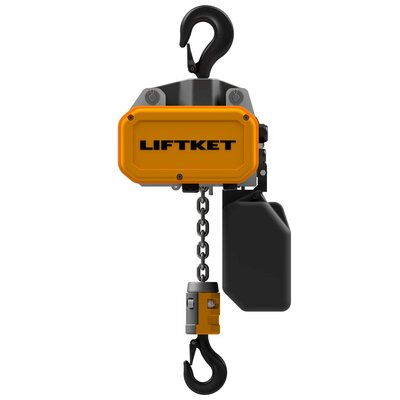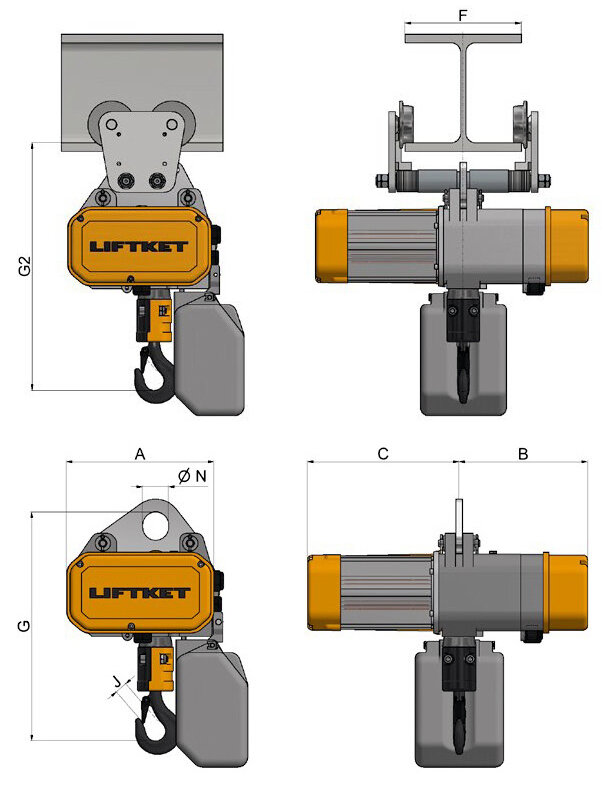 Select a row from the table below, then click the add to cart button
Download CAD

Download CAD by choosing the desired product from the table above and the format from the menu below. Click "Get CAD" and after the load reaches 100% you can click on the download icon to download it. Please note that CAD drawings are only available if the icon at the right side of the table above is colored and not grayed out.
| | | | | | | | |
| --- | --- | --- | --- | --- | --- | --- | --- |
| Code | A | B | C | G | G2 | ø N | J |
| | (mm) | (mm) | (mm) | (mm) | (mm) | (mm) | (mm) |
| | 212 | 192 | 220 | 380 | 406 | 25 | 20 |
| | 212 | 192 | 220 | 380 | 406 | 25 | 20 |
| | 212 | 192 | 220 | 380 | 406 | 25 | 20 |
| | 212 | 192 | 220 | 380 | 406 | 25 | 20 |
| | 212 | 192 | 220 | 380 | 406 | 25 | 20 |
| | 212 | 192 | 220 | 380 | 406 | 25 | 20 |
| | 266 | 232 | 274 | 388 | 436 | 35 | 20 |
| | 266 | 232 | 274 | 388 | 436 | 35 | 20 |
| | 266 | 232 | 274 | 388 | 436 | 35 | 20 |
| | 212 | 192 | 220 | 380 | 406 | 35 | 20 |
| | 212 | 192 | 220 | 428 | 454 | 25 | 22 |
| | 212 | 192 | 220 | 380 | 415 | 35 | 20 |
| | 266 | 232 | 274 | 413 | 460 | 35 | 22 |
| | 266 | 232 | 274 | 413 | 460 | 35 | 22 |
| | 266 | 232 | 274 | 413 | 460 | 35 | 22 |
| | 266 | 232 | 274 | 388 | 436 | 35 | 20 |
| | 266 | 232 | 274 | 413 | 460 | 35 | 22 |
| | 266 | 232 | 274 | 413 | 561 | 35 | 22 |
| | 266 | 232 | 274 | 514 | 561 | 35 | 28 |
| | 266 | 232 | 274 | 514 | 561 | 35 | 28 |
| | 266 | 232 | 274 | 514 | 561 | 35 | 28 |
| | 266 | 232 | 274 | 413 | 460 | 35 | 22 |
| | 266 | 232 | 274 | 413 | 460 | 35 | 22 |
| | 359 | 283 | 359 | 513 | 548 | 40 | 28 |
| | 266 | 232 | 274 | 413 | 460 | 35 | 22 |
| | 359 | 283 | 359 | 513 | 548 | 40 | 28 |
| | 266 | 232 | 274 | 514 | 561 | 35 | 28 |
| | 359 | 283 | 359 | 513 | 548 | 40 | 28 |
| | 359 | 283 | 359 | 513 | 548 | 40 | 28 |
| | 359 | 283 | 359 | 513 | 548 | 40 | 28 |
| | 266 | 232 | 274 | 514 | 561 | 35 | 28 |
| | 266 | 232 | 274 | 514 | 561 | 35 | 28 |
| | 359 | 283 | 359 | 620 | 655 | 40 | 30 |
| | 266 | 232 | 274 | 514 | 561 | 35 | 28 |
| | 359 | 283 | 359 | 620 | 655 | 40 | 30 |
| | 359 | 291 | 367 | 611 | 678 | 50 | 30 |
| | 359 | 291 | 410 | 611 | 678 | 50 | 30 |
| | 359 | 283 | 359 | 620 | 655 | 40 | 30 |
| | 359 | 283 | 359 | 620 | 655 | 40 | 30 |
| | 359 | 283 | 359 | 620 | 655 | 40 | 30 |
| | 359 | 291 | 367 | 611 | 678 | 50 | 30 |
| | 359 | 291 | 410 | 611 | 678 | 50 | 30 |
| | 359 | 291 | 367 | 611 | 678 | 50 | 30 |
| | 359 | 291 | 410 | 611 | 678 | 50 | 30 |
| | 359 | 283 | 359 | 620 | 655 | 40 | 30 |
| | 359 | 283 | 359 | 620 | 655 | 40 | 30 |
| | 359 | 283 | 359 | 620 | 655 | 40 | 30 |
| | 359 | 291 | 367 | 611 | 678 | 50 | 30 |
| | 359 | 291 | 410 | 611 | 678 | 50 | 30 |
| | 359 | 291 | 367 | 740 | 807 | 50 | 42 |
| | 359 | 291 | 410 | 740 | 807 | 50 | 42 |
| | 359 | 291 | 367 | 740 | 807 | 50 | 42 |
| | 359 | 291 | 410 | 740 | 807 | 50 | 42 |
| | 359 | 291 | 367 | 740 | 807 | 50 | 42 |
| | 359 | 291 | 410 | 740 | 807 | 50 | 42 |