Features:
Very high breaking strength.
Very stabile rope construction with very good fatigue properties.
A plastic layer between inner and outer strands prevents inner wear and protects the core from corrosion.
Very high resistance against flattening and wear.
Specially suitable for multilayer spooling.
ISO 4309 Rope Category No: All Diameters RCN.11.
Rope construction: 10 strand rope with a plastic layer between the steel core and the compacted outer strands.
Marking: According to standard
Standard: EN 12385-4
Fill factor: 0.73
Tolerance Ø: 2% - 4%
Overhead cranes

Ladle crane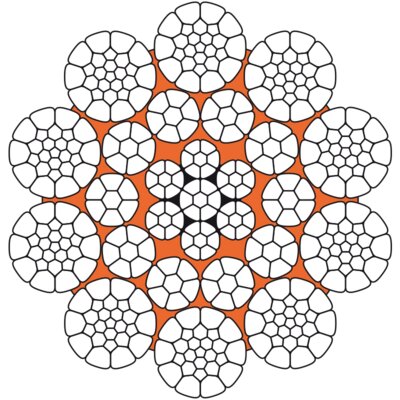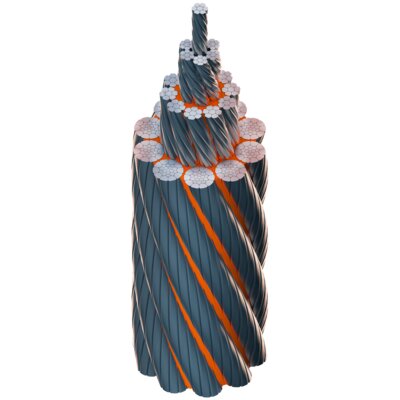 Select a row from the table below, then click the add to quote button
| | | | | | | | | | | | |
| --- | --- | --- | --- | --- | --- | --- | --- | --- | --- | --- | --- |
| Diameter | Total number | Outer strands | Number of wire break at discard | | | | Average | | | Elasticity | Elongation |
| Ø | of wires | number of wires | Regular lay | | Lang´s lay | | fill | spin | weight | modulus | under 3% |
| mm | | | 6 x d | 30 x d | 6 x d | 30 x d | factor | factor | factor | (kgf/mm²) | of MBL |
| 8-42 | 327 | 208 | 18 | 35 | 9 | 18 | 0,61 | 0,89 | 0,92 | 12250 | 0,290 |
| 43-48 | 367 | 248 | 21 | 42 | 10 | 21 | 0,61 | 0,89 | 0,92 | 12250 | 0,290 |
| 49-60 | 407 | 288 | 24 | 48 | 12 | 24 | 0,61 | 0,89 | 0,92 | 12250 | 0,290 |