544 kg capacity portable Davit Crane
• Load ratings up to 544 kg
• Portable, heaviest component 16,3 kg
• Rugged and affordable
• Manual or power winch operation
• 360° rotation
• Boom adjustable to meet wide range of height and reach combinations
• Easy, No-Tools Assembly/Disassembly (all individual components less than 16.5 kg)
• Variety of bases
• 2-Year warranty
• Proof of load 125% of WLL (Optional)
Machinery directive: 2006/42/EC as amended by Directive 95/16/EC.
Marking: CE-marked
Finish: Powder coat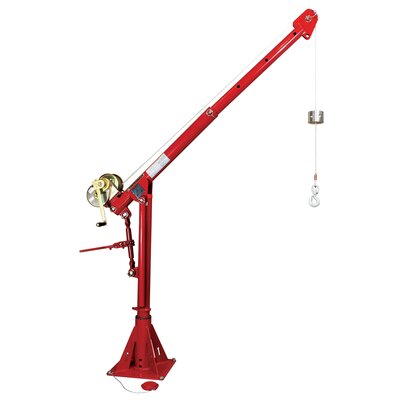 Portable Davit Crane 5PT10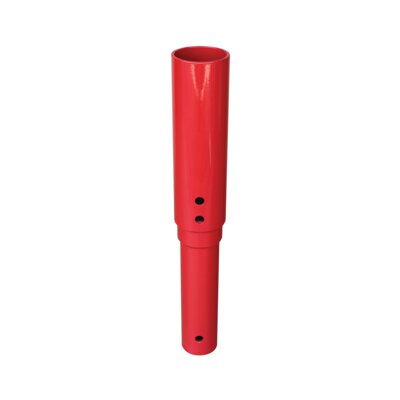 Base Extension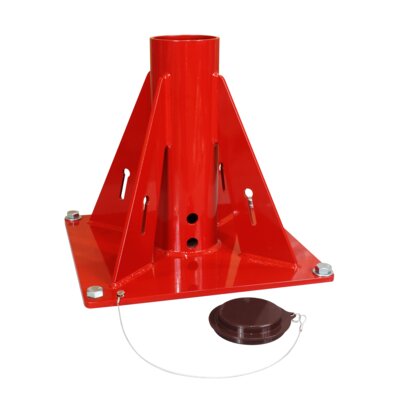 Pedestal Base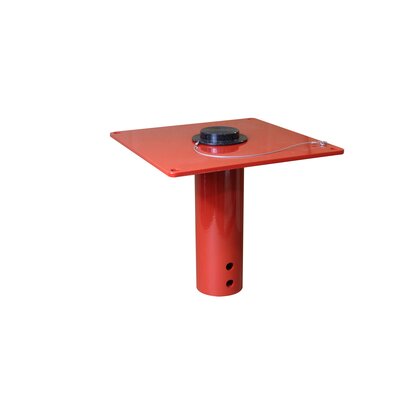 Flush Mount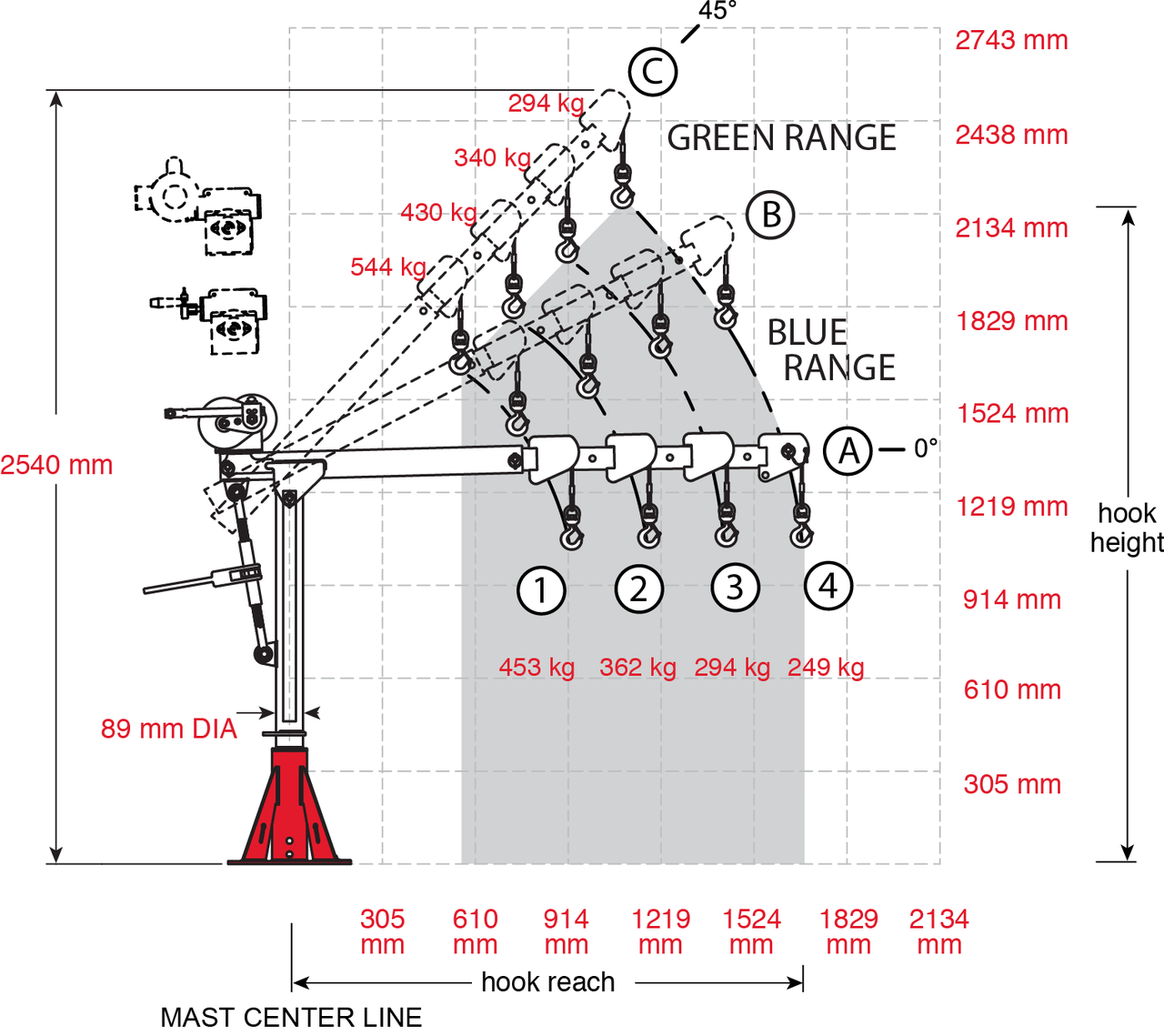 Pedestal Sweep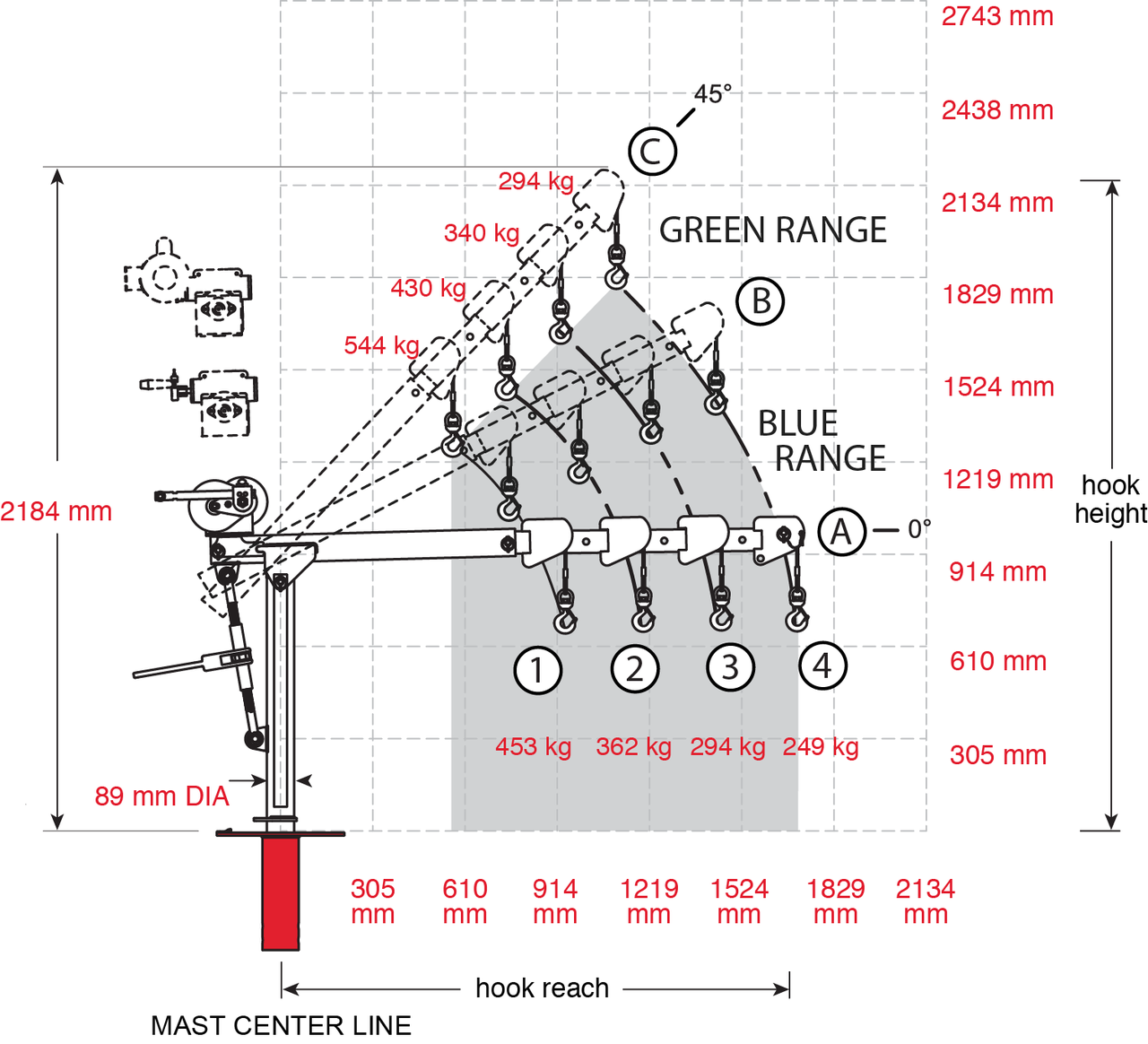 Flush Sweep
Select a row from the table below, then click the add to cart button
Download CAD

Download CAD by choosing the desired product from the table above and the format from the menu below. Click "Get CAD" and after the load reaches 100% you can click on the download icon to download it. Please note that CAD drawings are only available if the icon at the right side of the table above is colored and not grayed out.
Commander 2000, 5PT20 with Pedestal Base
Boom Position A/B Range
WLL (KG)
Hook Reach (mm)
Hook height (mm)*
Lift below floor level** min-max in meters
1st Layer
Mid Drum
Full Drum
A1
907
680
544
1168
1092
0.0-19.2
A2
725
680
544
1473
1092
0.0-19.2
A3
589
589
544
1778
1092
0.0-19.2
A4
498
498
498
2082
1092
0.0-19.2
B1
907
680
544
711
1803
0.0-19.2
B2
861
680
544
914
2032
0.0-19.2
B3
680
680
544
1143
2235
0.0-19.2
B4
589
589
544
1346
2463
0.0-19.2
* Optional Base extension can provide 380mm more hook height
Commander 2000, 5PT20 with Flush or Wall base
Boom Position A/B Range
WLL (KG)
Hook Reach (mm)
Hook height (mm)*
Lift below floor level** min-max in meters
1st Layer
Mid Drum
Full Drum
A1
907
680
544
1168
736
0.0-19.2
A2
725
680
544
1473
736
0.0-19.2
A3
589
589
544
1778
736
0.0-19.2
A4
498
498
498
2082
736
0.0-19.2
B1
907
680
544
711
1447
0.0-19.2
B2
861
680
544
914
1676
0.0-19.2
B3
680
680
544
1143
1879
0.0-19.2
B4
589
589
544
1346
2108
0.0-19.2
* Optional Base extension can provide 380mm more hook height