Kas yra "CertMax+"?
"CertMax+" yra moderni programinės įrangos sistema, skirta kėlimo įrangos patikroms tvarkyti. Internetinę sistemą vartotojai gali naudoti ataskaitoms ir sertifikatams generuoti realiuoju metu iš bet kurios vietos. Taip išvengiama brangiai kainuojančių popierinių sistemų ir galimų klaidų. Naudojant sistemą nereikia rūpintis kėlimo įrangos patikromis ir sertifikavimu, todėl klientai visą savo dėmesį gali skirti pagrindinei savo veiklai. Ši sistema gerokai sumažina išlaidas ir užtikrina saugumą.

Paprastas patikros ir sertifikavimo procesas
Kėlimo įranga reikia tinkamai rūpintis, kad ji visada būtų tinkamos būklės. Ši pirmo žvilgsnio paprasta užduotis iš tikrųjų gali būti stebėtinai sudėtinga. Kėlimo įranga gali būti keliose skirtingose objektuose ir įsigyta skirtingu laiku, todėl ir tikrinti ją reikia skirtingu laiku. Jei sertifikatai ir ataskaitos laikomos segtuvų bylose, jų greitai prisikaupia ir jos užima daugybę vietos, be to jas sunku kontroliuoti, ypač kai reikia išanalizuoti produktų istoriją. Didelės įtakos kėlimo įrangos valdymui turėjo 2010 m. priimtos "Kranų naudojimo taisyklės A1-425". Taisyklės gerokai sugriežtino įrangos naudojimo reikalavimus, todėl daugybė įmonių prarado nemažai laiko ir pinigų, mėgindamos įgyvendinti pasikeitimus.
"CertMax+" patikrų ir sertifikavimo duomenų bazė yra neatsiejama kėlimo įrangos valdymo ir kontrolės dalis. "CertMax+" leidžia lengvai pasiekti kompiuterizuotą registrą, įskaitant pagaminimo sertifikatų saugyklą, patikrų, techninės priežiūros ir testavimo istoriją.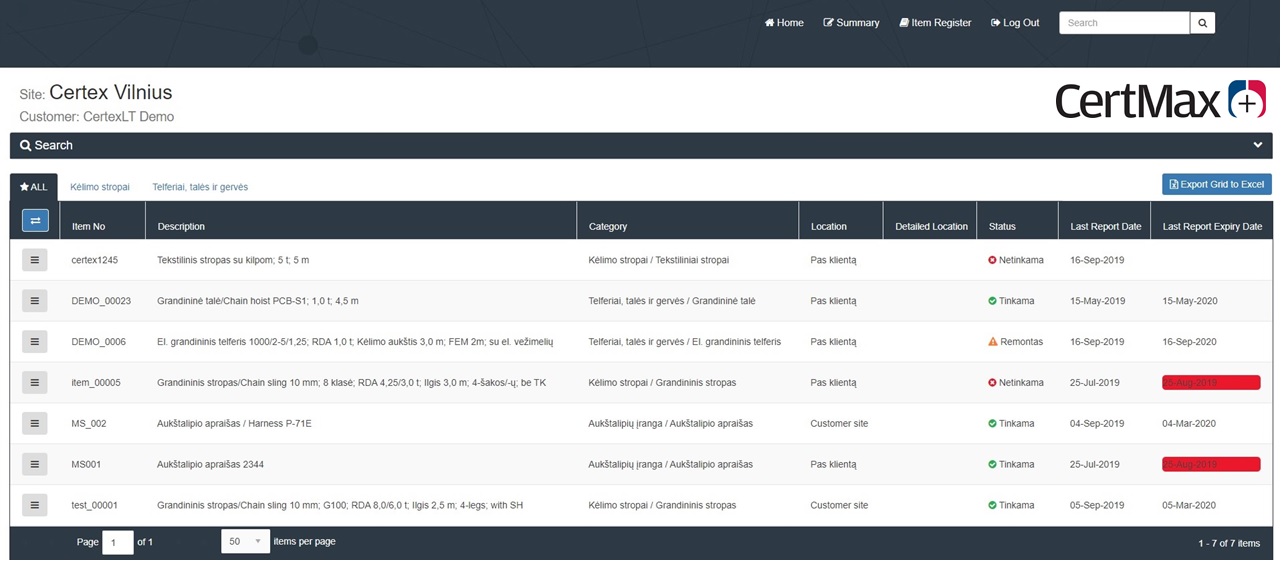 CertMax+ privalumai
Sutaupykite laiko ir pinigų
"CertMax+" yra efektyvi dokumentų valdymo sistema, leidžianti gerokai sutaupyti;
Informacija saugoma susijusiose duomenų bazėse, todėl atlikus vos vieną duomenų įvedimo procedūrą, galima rinktis įvairias pranešimo parinktis;
Lengvai atliekama produktų istorijos analizė leidžia priimti geresnius pirkimų sprendimus.
Paprasta naudoti
"CertMax+" sistema skirta "Windows" aplinkai ir turi naudoti patogias funkcijas;
Internetinis žinynas naudotojams padeda greitai susipažinti su programinės įrangos paketu;
Informacija pateikiama suvestinės forma, todėl detalesnę informaciją naudotojai gali matyti kelių mygtukų paspaudimu.
Ataskaitas lengva kurti ir atsisiųsti.